"I'm getting fed up with all these restrictions," one pilot posted on the DJI Forum. "I've been limited to height and distance. I own the drone DJI not you; you have no right to restrict it."
The statement above represents a common sentiment felt by drone owners venting on forums across the web. Many of these drone owners are turning to the internet to find ways to disable the manufacturer's flight restrictions. Removing manufacturer flight restrictions is not hard, even for those that are less tech-savvy.
It is illegal for cars to go over the speed limit in almost anywhere in the U.S and abroad, but most cars can still go over 130 MPH. Car manufacturers aren't disabling cars from speeding, so why are drone manufacturers disabling drones from flying? Drone manufacturers setting limitations on products is not a reliable safety solution.
There are legitimate routes to requesting authorization to fly in FAA restricted areas. Earlier this year, DJI took notice of criticism and the needs of professional drone pilots and made it easier for its commercial owners to fly in geofenced areas. This move to make it easier to authorize professionals doesn't do anything for hobby drone users, however, registered hobby pilots can request LAANC authorization to fly in restricted areas through AirMap, Kittyhawk, or DJI app.
The real issues are with the less savory methods drone owners are using to "unlock" their drones. Take a moment to Google "unlock your drone," and you will find numerous articles and videos on how to "unlock" your drone to fly in no-fly zones, fly above 400ft, fly beyond line of sight, and even change the serial number. Unless you are authorized to do the above, these are illegal according to our FAA and FCC laws.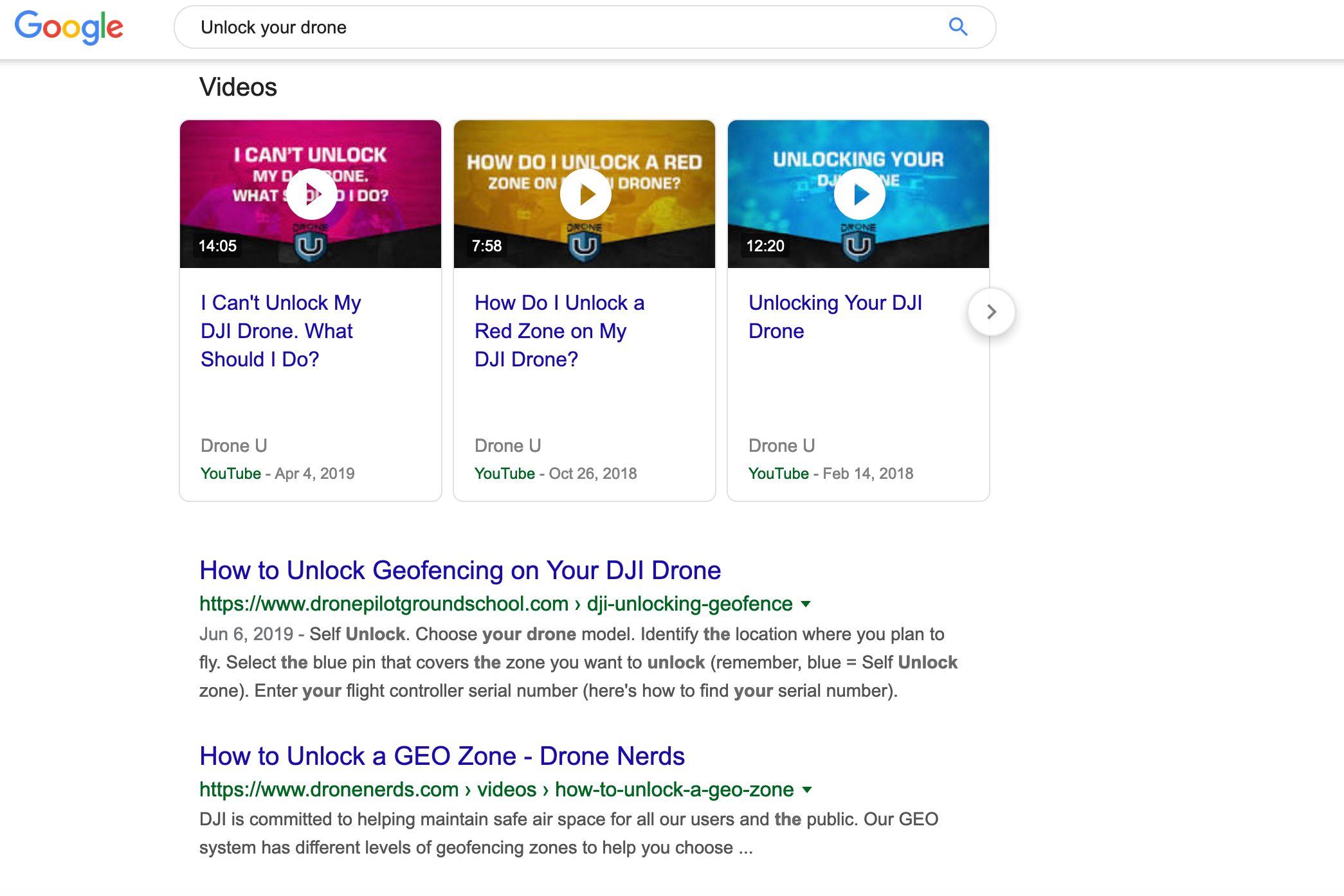 There are a few low-cost third-party software programs available that allow drone users to unlock restrictions. One of the most popular programs, No Limit Dronez (NLD), costs less than $50 per drone and gives pilots access to features such as:
Remove No Fly Zone Restrictions
Remove Altitude limit
Increased Flying Range (FCC Mode + Boost)
Upgrade or Downgrade firmware
Speed boost
How to unlock No-Fly Zones Geofence

The FAA has mapped out the airspace, assigned airspace classes, and identified no-fly zones. Some manufacturers have added a Geofence feature to their drones that prevent the devices from taking off in these areas or forces them to land if they enter the geofenced airspace.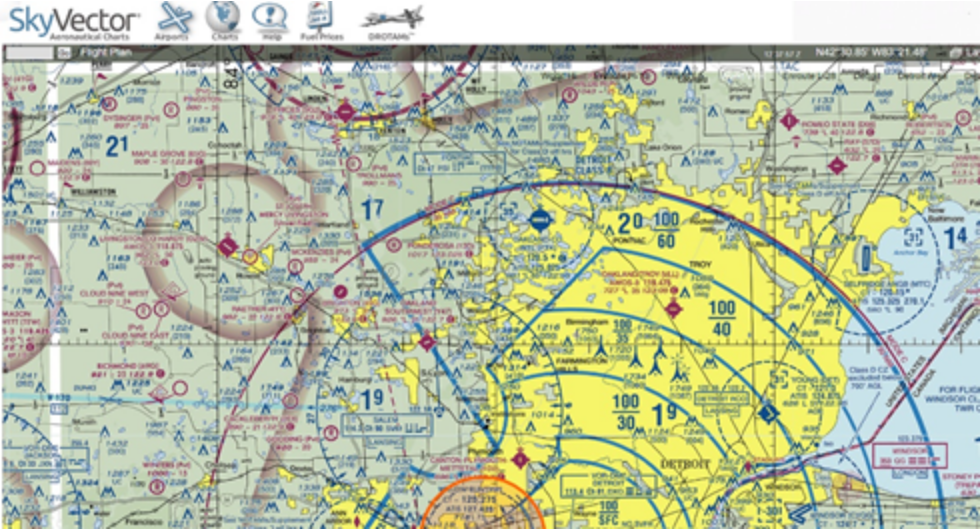 For most manufacturers, this feature was not available at the time of manufacturing or in earlier versions of the firmware. Geofence restrictions were enabled on devices through a firmware update. For DJI products, this restriction can be removed by rolling back the firmware to an older version. Drone owners can easily downgrade firmware by using one of the many software options available online, like NLD. It requires no IT knowledge, and It is as simple as plugging in your drone via USB to your computer and following a few steps.
Drones manufactured by Yuneec and Parrot do not require any 3rd party software to disable no-fly zones. Yuneec owners can download the GUI app and check off this restriction directly in the app. Not all Parrot models have built-in geofencing, but for models such as the Anafi, owners can turn off geofence restrictions in the app.
Boost your radio power to fly your drone further
Just like any broadcasting devices, drones and their controllers operate within frequency limits that are tested and approved by the FCC. During the FCC testing, regulators make sure that the devices are compliant and do not cause interference with other devices due to high power. The drone manufacturer achieves the FCC certification based on set parameters that cannot be changed by the consumer.
How far a drone can fly is determined by the communications control range. Drone owners are doing the following to increase the range of their radio controller:
hack your controller using NLD type software
upgrade the standard 2dB stock antenna to a 4dB antenna
add a power booster to your controller
Removing the drone altitude restriction limit
By Default, most drones come with 120ft "beginners' mode" that you can manually override by check-marking a box that allows you to reach 400ft or some are set to go up to 180ft. In either example, this restriction can be removed easily. Yuneec brand drones will allow you to raise it to 3000ft inside the Yuneec GUI interface, other manufacturers like DJI will require users to downgrade the firmware to remove this restriction. Users can also remove all altitude restrictions to fly at high altitudes through third-party software such as NLD.
Changing your drone's serial number
While getting this accomplished requires some IT skills, you will be amazed to know that we are seeing. One pilot changed his drone ID to "FUUU." We have also observed close to 1% of all drones detected and tracked with our drone detection platform have no specific city or state listed in their data. Meaning they are manipulating their drone IDs and associated information to cloak or hide their identity.
Real drone flight data from our system
In data collected over four weeks from our drone detection platform installed in Las Vegas, Nevada, we observed drone flights regularly flying in geofenced areas and flying way above altitude limits.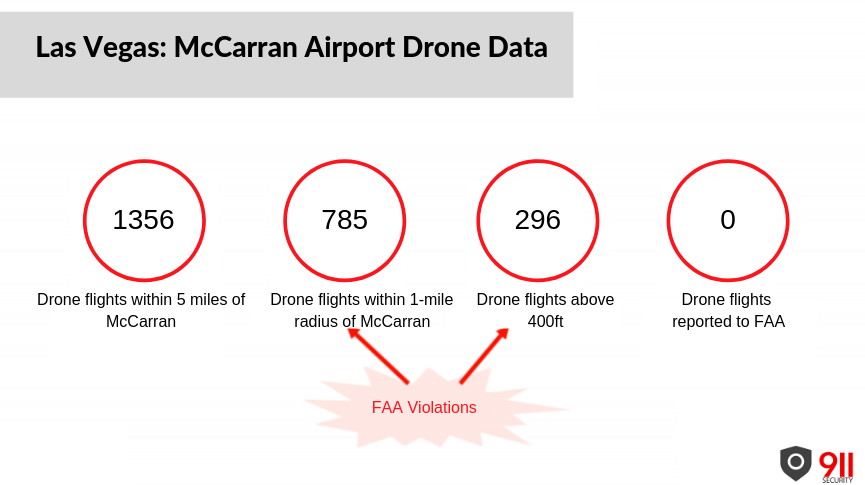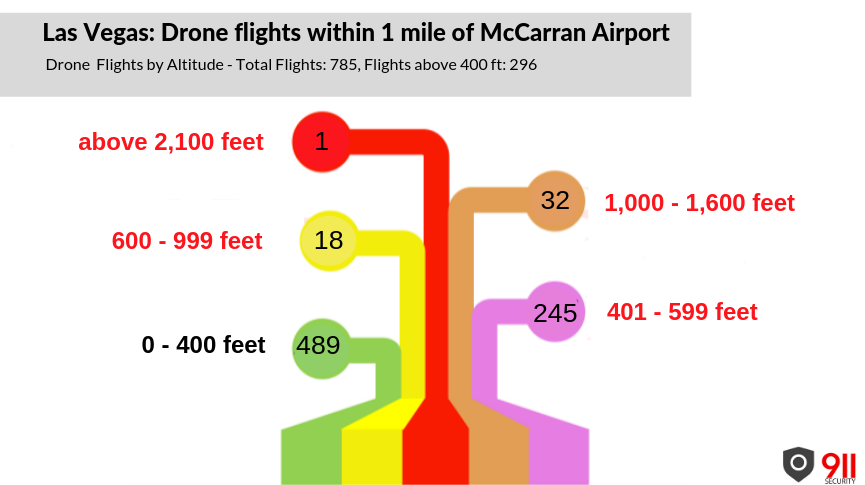 In this case study, we analyzed the data collected from a drone detection system installed near McCarran International Airport In Las Vegas, Nevada. Late December 2018,Airsight deployed AirGuard, an array of sensors with the capability of remote ID and ability to track drones in real-time.
During our data collection period, things got more interesting when a drone pilot started uploading videos of casinos. Casino property owners reached out to us for help. Read our Case Study to find out how Airsight helped identify the drone pilot.
Conclusion
Currently, It is simply the wild west when it comes to Airspace management. The FAA needs to lead and expedite the remote ID project that it initiated in 2016. The FAA continues to delay the remote ID rulemaking, while lawmakers voice their frustrations with the ongoing delays. Now, the highly anticipated remote ID ruling is due in late December 2019.
Drones flying within restricted areas, beyond the line of sight, and above altitude limits isn't a hypothetical situation. Data collected from our drone detection platforms as well as from other companies' systems confirm these flights. When unauthorized flights occur near airports or critical infrastructures, it creates unnecessary safety threats. In other cases, illegal flights lead to perimeter breaches with the intent to harm. We can no longer rely solely on drone manufacturers to build this type of safety guard into their drone.