Remote ID gives drones the ability to provide identification and location information that other parties can receive while the drone is in flight. Parrot was one of the first manufacturers to comply with the French version of Remote ID.
The Parrot system will use a technology called Wifi Beacon, also known as SSID stuffing. The manufacturer will add the extra information required by the authorities to the SSID broadcast. Compatible receivers will be able to receive this information by scanning the SSID without connecting to it.
The information provided will include:
30-character FR identifier
ANSI CTA 2063 UAS identifier (physical serial number - PSN)
Current aircraft latitude (signed)
Current aircraft longitude (signed)
Current aircraft altitude (signed)
Current aircraft height (signed)
Take-off point latitude (signed)
Take-off point longitude (signed)
Horizontal speed
True route
Here is how you turn it on/off, but you will not have the option to turn it off in future updates.
Click on the network tab on the Parrot

Turn-off Broadcast DRI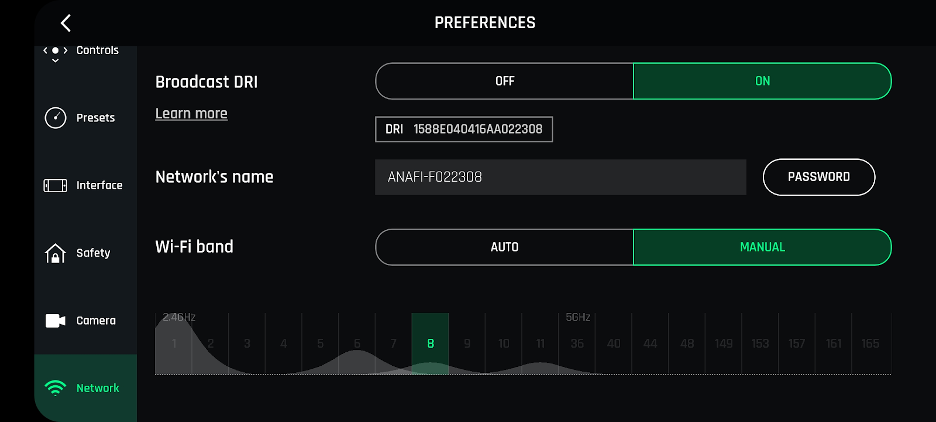 *This is available on Free Flight 6 V. 6.7.3
You also can name your own DRI, where it will be the drone ID or a generated flight ID in the future.
Airsight will soon release our remote ID receivers. Our receivers will be compatible with all drones that can transmit remote ID like DJI, Skydio, Yuneec, and Aurel.
Join the waitlist to be the first to know about Airsight's new Remote ID product launch.