Intel unveils its latest innovation to help shape global UAS industry standards - Open Drone ID. Open Drone ID offers a solution using bluetooth for the remote identification and tracking of UAS. Intel's new open solution builds on the company's collaborative Unmanned Aircraft System Traffic Management (UTM) trials with NASA and the FAA. Intel is continuing to work alongside the FAA and other industry participants to advance the safe integration of drones into the U.S. airspace, according to the company's press release.
Intel performed the first public demonstration of Open Drone ID in Oklahoma at a media event hosted by the Choctaw Nation. Intel is participating with four of the 10 test sites selected in the FAA's Integration Pilot Program. Those sites include Choctaw Nation of Oklahoma, Durant, Oklahoma; the city of San Diego; the Innovation and Entrepreneurship Investment Authority, Herndon, Virginia; and the Memphis-Shelby County Airport Authority in Tennessee. The UAS Integration Pilot Program was founded to identify specific, modern commercial applications for the growing drone industry and how to integrate this proposed traffic into the national airspace safely.
The FAA has been chartered by the Unmanned Aircraft Systems Identification and Tracking Aviation Rulemaking Committee (ARC) to identify, categorize and recommend available and emerging technology for the remote identification and tracking of UAS. Intel's proposed solution is the Open Drone ID.
Open Drone ID is a beacon-based (wireless drone identification) solution that enables drones to be identified when within range of a receiver, like a smartphone. The current draft specification is based on Bluetooth 4.2 broadcast packets and Bluetooth 5 (long-range) advertising extensions. With this technology, each aircraft can broadcast its unique ID, location, direction, altitude, speed, make/model, base location and other related data.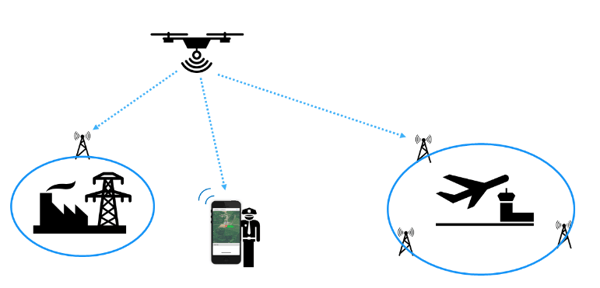 A workgroup within ASTM, an international standards body, manages the Open Drone ID project. Intel is leading that workgroup, ASTM F38 Remote ID Standard and Tracking. Intel believes it's crucial that "Open Drone ID is a global standard, like Wi-Fi or Bluetooth, to provide broad scalability to many end users and use cases."
Intel has been at the forefront of the drone industry and innovation. Recently their drones were used to create the cover of Time Magazine, and the company is continuously breaking its records for drone light shows. Intel also has a long history of participating in standards bodies and industry groups worldwide and has played a significant industry leadership role in bringing about globally adopted standards such as Ethernet, USB, and Wi-Fi and is emerging as a drone industry leader in the modern drone era.